"I'm so freaking cool.  I may actually be the greatest thing since sliced bread." - is credited as the number one thought that enters college kids on the first day of their first year of college - (John Taylor's incredible stat analysis)
(pleated-jeans.com)
Folks, as you know I am senior at NC State University.  For most seniors, this means that we will soon be graduating from 16 years of schooling, excited to enter the workforce or on to the education program.  What I would look to focus on today is the four years before this magical day in the spring.  That's right folks, here is our very first edition of 
John Explains College!
Freshman Year
Big man on campus!  Look at you! You made it through SATs, ACTs, EOCs and whatever other acronyms that they are throwing at you now a days, and now you are ready for the L-A-D-ies (or the B-O-Y-zies, but it really just doesn't work as well) the all night RAGERS, and the chance to meet literally thousands of new people. Oh yeah and school, or so you say to mom and dad.  
(niketalk.com)
Freshman year, you are absolutely the most adventurous that you will be on campus.  I don't mean adventurous in a sense that you want to go rock climbing every weekend.  I mean you will do just about anything that pops up on campus.  "I got an email from 15 clubs! time to go visit all 15!"  This is absolutely a great mentality because of the fact that there is simply so much offered on campus that you could spend your entire life at club meetings instead of in class (BAD IDEA #1).  This is also probably the only time when it is socially acceptable to do this, and you may actually make friends:
(heelo.com)
Also, freshman year is the first year that the party scene is in your face, and you may be drawn to it.  Go for it.  Go to a party and have a good time.  I don't care what you have heard, it is perfectly okay to go blow off some steam and meet new people.  (for problematic partying, refer to BAD IDEA #1)
(finalbossform.com)
(de.sodahead.com)
(weheartit.com)
(SHOUT OUT TO PROJECT X)
Inevitably, freshman year may turn into this (especially if BAD IDEA #1 is met):
(gifsoup.com)
(innerflame.tumblr.com)
But that's okay, because you went out, you met new people, you learned about yourself a little, and you failed a few exams.  Welcome to College my friend.
BAD IDEA #1
I have had a few bad ideas during my time at State, and I would like to help you avoid some of the same pit falls.  Bad idea #1 is skipping class, for any reason.  There are acceptable times to skip class, such as family emergencies, you are sick, or any number of extreme cases.  Skipping class because you don't feel like going, or you just had a test in the class so you don't want to go the next day, these are not acceptable reasons to skip class.  I have done both of them, and truly sacrificed some of my education.  Skipping class because you are too drunk, you had to go to a club meeting or any number of terrible things you can think of (clubs aren't bad but you get my point…) is an unacceptable reason to miss class, and a good way to fail out of school.  As my father would say, "Cut the s***, go to class."

Sophomore Year
(howdoiputthisgently.tumblr.com)
"Oh, maybe I'm not the most amazing thing since sliced bread" - is credited as the number one thought that enters college kids on the first day of their second year of college - (John Taylor's incredible stat analysis)
From what I can tell, sophomore year is pretty much the make or break year for most college age adults.  Sophomore year can go one of three ways:
1)  "I learned from freshman year"  - This is the pathway that involves learning how to study, stopping partying, and truly focusing on your education.  Eventually, if you will graduate from college, you will reach this stage in your education.  All pathways lead this direction.  I did not reach this stage until junior year, a mistake of my own.  If you take this path, you will graduate from college on time, most likely maintain a high GPA, and probably land a sweet job after graduation.  (The perfect path, right?)
(supernunga23.tumblr.com)
2) "I did not learn from freshman year" - This pathway involves more partying, less schoolwork.  After your freshman year, you will know most of the shortcuts.  While I mean you will know how to get to class faster, I also mean the shortcuts of school work.  Chances are you will have figured out how to get solution manuals, or have found a friend that will help you with the answers.  You will also know the easiest way to get ________ <— insert any substance that is illegal to a sub 21 year old.  This my friends is a very dangerous path to walk down.  Chances are, this path will very quickly lead you to your demise, whether that demise be the end of your academic career, or worse.
(imgur.com)
3) "I was semi-successful freshman year, I can live the same way now that I did then" - How to sum that up:
(howdoiputthisgently.tumblr.com)
If this is you, watch your peers that are in group one.  Sophomore year can very quickly turn ugly (no major, no classes, no idea where to go… sounds fun right?) if you aren't careful.  Whatever you did freshman year to pass your classes will not work beyond freshman year.  Its a weird principle that is seen very often in the freshman paradox, but cramming until 6am the night before a final will not work ever again (unless you take more freshman classes… then it still works.  You don't need to remember that information, right?)  Sophomore year will not be fun, mostly because you won't be taking classes that are of interest to you yet, and that is just the cold hard fact of it.  Also, you cannot eat an entire order of pokey stix and enjoy yourself the next day after freshman year.  Yeah, it really sucks.
BAD IDEA #2
Not learning how to study is bad idea #2.  Sophomore year can make the decision of how many years you will spend in school for you.  Take it upon yourself to learn how to study now, and you won't be in college for six years.
Junior Year
(howdoiputthisgently.tumblr.com)
"This is the year I figure it out!" - is credited as the number one thought that enters college kids on the first day of their third year of college - (John Taylor's incredible stat analysis)
Junior year, often credited as the hardest year of undergraduate, is the year where students are expected to be in the major of their dreams, and will be taking difficult classes but doing well because they love the material.  <—- Will someone please take a rocket to this university standard?!  They are so very wrong.
Let's start with the bad things of junior year so I can find awesome gifs of the good parts of junior year:
As a college student, you spend time learning about yourself, your friends, and where you will be in the future.  With these high expectations of learning, you will probably reach a point in time known as The Breakdown
The Breakdown:

Every college student reaches this point.  I personally reached this momentous occasion during the spring semester of my junior year of college, so I decided to include it here.  College maturity is a lot like puberty, we will all reach these points in our own time.  What is the breakdown?  It goes a little like this:

(99gifts.com)

At the begging of the year, things will probably start out nice.  Maybe, you will have found a major that you think is the one you will graduate in, or maybe you will still be looking.  At some point during the year, everything will seem like it has collapsed around you.  Your friends won't be what you wanted them to be, you will hate your major, and it may seem like you will never get out of school.  It involves a lot of this:

(knowyourmeme.com)

(gifatron.com)

(gif-emporium.tumblr.com)

(giphy.com)

(emotiongifs.com)

But, once you stop pitying yourself and figure it out (as you are expected to do as a 21 year old or near 21 year old adult) the world opens up and you can be excited again

(yrband.tumblr.com)
So yeah, that part of junior year really sucks.  But there is a good thing about junior year, that's right we all turn TWENTY ONE!
The only proper way to show being 21 is by putting up more party gifs
(imgur.com)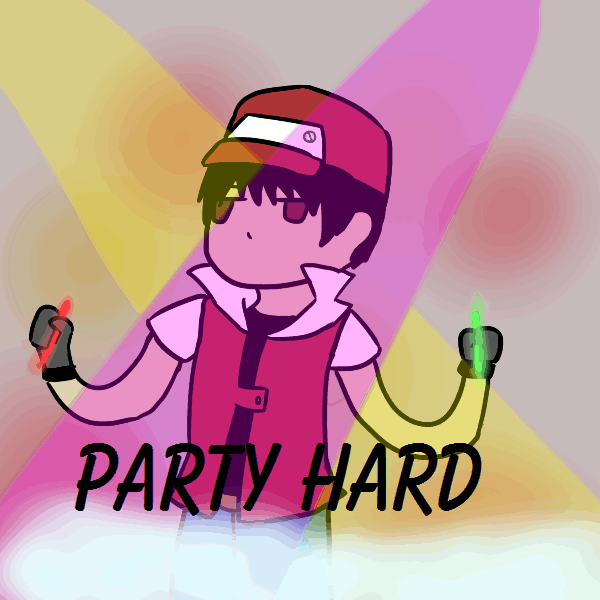 (epicrapbattlesofhistory.wikia.com)
(a-party-like-project-x.tumblr.com)
BAD IDEA #3
Just because you turned 21, it doesn't mean you can handle your alcohol any better.  As a 21 year old, you can be expected to be downtown pretty much every weekend.  By the time you reach this age, who I am to tell you what to do?  I'm just merely reminding you to be careful and make the right decisions.
SENIOR YEAR
(tumbblr-c0uples.tumblr.com)
"Almost there.  Just 196 days left." - - is credited as the number one thought that enters college kids on the first day of their last year of college (not necessarily 4th) - (John Taylor's incredible stat analysis)
As they say, there is a light at the end of the tunnel.  Much like your high school senior year, this is a year of excitement, hard work, disappointment and most importantly, accomplishment.  Of course, none of us have any idea what we are going to do with our lives, but at least we are that close to almost having it together.  Almost.
(gifboom.com)
Thanks guys, Go Pack! (PS, once you turn 22 the hangovers last multiple days)